PRINTING SERVICES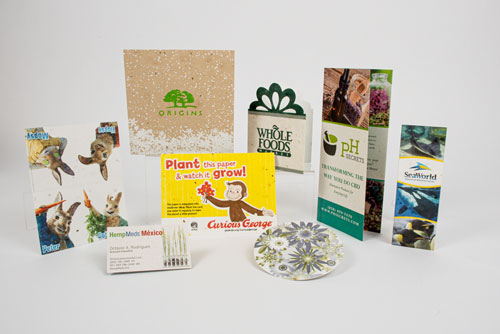 Quality print services available on all of our papers:
Offset Printing Digital Color Large Format Inkjet
Letterpress Foil Stamping Deboss/Emboss
Distinctive eco-friendly printed products:
Business Cards Brochures Announcements
Bookmarks Postcards Packinging
Promotional products Posters & More
Your imagination is limitless and so are our printing capabilities. We are passionate about helping you create custom printed materials utilizing our extensive line of innovative recycled papers. We strive to bring your creative goals to life!
We offer custom design services ensuring your collateral needs match up with your brand identity. We take great satisfaction in delivering a beautifully finished product that proudly exemplifies the image your company wants to project.
We have the skill and experience necessary to achieve high quality results when printing on our uncoated, recycled papers. We have mastered the challenges associated with printing on our handmade seed paper and are able to deliver optimal results offering our Clients' many design options.
Request A Quote