CUSTOM PAPER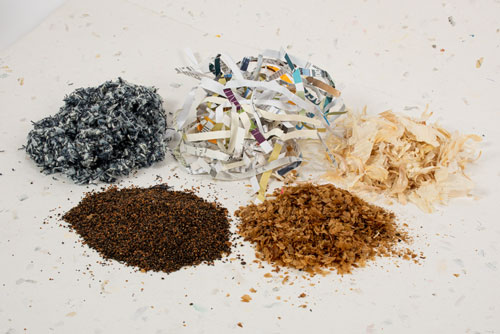 Infused for beauty and sustainability, our Skilled Artisans can create a custom handmade paper for you!
Create your custom paper by selecting your choice of:
Seeds
Color
Alternative fiber
Sheet Size (13x19 or 18x24)
We offer custom Grow-a-Note® seed paper using custom seeds provided the seed is small enough and available in the marketplace. There needs to be a minimum of 400,000 seeds per pound in order for the seeds to be able to be embedded in our paper. Additionally, the price of the seeds, availability and the fact that some seeds will stain the paper are considerations when selecting a custom seed paper.
CUSTOM UPCYCLED PAPER
By adding alternative fibers to the post-consumer pulp, we are able to create a truly unique paper that can be transformed into business cards, hang tags, packaging and promotional materials. This paper creates a second life for the fiber that is upcycled and also spares the landfill. The various fiber options are vast and include: hemp, textile scraps, coffee beans, garlic skins, junk mail etc. The fiber also provides the backdrop and color which adds to the beauty and originality of each sheet.
Green Field Paper Company is proud to join forces and support organizations that need to upcycle their surplus fibers. Previous partners have included SeaWorld, San Diego Padres and Guess Jeans.
There is a 250 sheet minimum for any custom seed paper.
Request A Quote